Details of dispute:
The driving School in question is Marco K53 Driving School which is owned by Marco Fourie in the Roodepoort area.
The contact details of the driving school are as follows:
I phoned in on the 18th of December 2018 and asked information regarding the Learner's License. I told the gentlemen that I bought a book from CNA and asked how we should go about to do his Learner's. The gentleman told me that I can throw away the book that I bought from CNA as 25% of the questions asked in the Learner's exam are not even mentioned in the book. I asked him what is provided in the package and he told me the following services are provided in the R850.00 package:
1. Study material, which will be dropped off at my address provided
2. Help to make booking, and also that you will collect him to go and pay the booking made (Pick up and drop off)
3. Also pick up and drop off for the date of the booked Learner's exam
I asked the gentleman again about the pickup and drop off service as I do not have a car and he reassured me that that is included in the price.
The gentleman requested that I send him a WhatsApp with all the information regarding the applicant which I did shortly after the telephone conversation.
I also paid in the R850.00 on the same day.
On the 19th of December 2018 I still did not receive the training information. I send a WhatsApp and asked when the booklet will be delivered. He informed me that it was already late and that he will get back to me, which he never did.
On the 20th of December 2018 I send a WhatsApp message again and asked when the booklet will be delivered. The gentleman advised that the booklet will be delivered the same day. Then I received a message stating that they could not find my address and I should meet them at Spur. I then phoned him and said that when I spoke to him telephonically, I specifically asked about the drop of and pick up service as I do not have a car. I then said to him that if it can't be delivered, I want my money back as this is not what was agreed upon. He said that they will deliver the booklet and I said to him that I have another appointment at 2 pm and that they should please deliver before this time, which he said they will.
I left for the my appointment and they delivered the material after the agreed upon time.
I asked them regarding the appointment and I was forwarded a link to book myself. I then asked him if they will pick him up for the test and all of a sudden I had to pay in R200.00 more!
I then confronted the gentleman and said that I have worked through the booklet and the information provided was also in the book I bought from CNA (which is false information provided), I also indicated that the pickup and drop of service was included in the R850.00. He then scolded me that I said he was a "thief" which is absolutely not true – because I was not there to receive the package myself.
He proceed to tell me that I will not get any money reimbursed and that I should rather look for another driving school and blocked me on WhatsApp.
I find this kind of behaviour very unprofessional and I feel that I was given false information when I phoned in to inquire about the driving school.
I would like to be reimbursed the full R850.00 I paid as all the information provided in the training booklet IS in the book I bought. I feel that I was given false and misleading information for the start.
You are welcome to contact me at any time for further information; I can be reached on my cell phone.
See Hellopeter for more complaints about this driving school.
Honeybee Driving School, also trading as Driveco, has been reported to SAIDI FIVE SIX SEVEN EIGHT NINE TEN TIMES SINCE OCTOBER 2018.
1.
Dear  Saidi,
I wonder if you can assist me.
On Sunday, 27th January 2019, I paid R1700 to Honeybee Driving School so that I could have 10 driving lessons for automatic car. I paid this money in cash to the instructor, Nageeb and was issued with a receipt (attached).
The agreement was that I will have the next lesson on Wednesday, 30th January 2019. None one came and upon enquiring was told that there was a mix up. They promised to get back to me immediately which they never did.
I made a further attempt to send whatsapp messages to two numbers listed on the website, that is, 061 543 8407 and 072 493 4906. They are now not responding. Upon making my own investigation, was reliably informed that it has happened to many other people in the past with this school.
Do you guys monitor these driving schools?
Please assist.
2.
Friday, 11 January 2019 9:29 PM
Dear Pat
We are in the process of reporting the matter to the Mowbray Police Department as it has come to our attention that Honeybee Driving School has been operating from the Damelin College premises in Mowbray under the name of drivecodrivingschool.co.za. I have been informed by Damelin staff that they have severed all ties with the driving school as they have defrauded many students and charges have been laid against them at the Mowbray Police Station.
Below is a synopsis of what transpired between Honeybee Driving School and my daughter.
In December 2018 I went online to look for an affordable and reliable driving school in Cape Town. Honeybee Driving School was one of the top results with a 4.3 rating on Google.
On Saturday the 5th of January 2019 I made a booking request via their website and on Sunday the 6th of January I was informed that my booking was confirmed for Monday the 7th of January at 4pm.
On Monday the 7th of January my instructor arrived fifteen minutes earlier than the booked time, an hour's lesson took place and at the end of the lesson I paid for the 10 lesson package   (R1 800)and was issued with a generic receipt. I asked the instructor how I could book the subsequent lessons and he informed me that it could only be done through the office.
Immediately after the lesson I sent an email to request times for my subsequent lessons and received no response for 2 days.
On Tuesday the 8th of January I phoned them and received no response.
On Wednesday the 9th of January I phoned them again, sent the school a WA message and the driving instructor a WA message and received no response. I then alerted my parents that the driving school were not responding to my calls, emails or WA messages. My mom then phoned the number that was provided on the website and managed to get through, she spoke to a gentleman by the name of Naqeeb who informed her that he had been ill and that was why there was a backlog in correspondence. He assured her that all subsequent lessons would be honored and the second lesson was booked for Friday the 11th of January at 11:00 am and all lessons booked for next week would be confirmed in today's lesson.
At 11.06 I sent the instructor a message to confirm our lesson for 11am and received no response, at 11.30 I telephoned the driving school and at 11:53 I received a message from the instructor to say that he was on his way for the lesson and arrived for the lesson at 12:11pm.
After the lesson I inquired whether he could please confirm next weeks' lessons and was told that he could not confirm the lessons as it had to be handled by the office.
When I arrived home after my lesson I phoned the driving school and received no response. After calling multiple times my parents  (who were already suspicious at this point) and I decided to visit the physical address that is listed on their website. We then realized that there was only a street listed and not an actual property number.
This led us to further investigations which included contacting the driving instructor who informed us that their offices are situated at the Damelin college in Mowbray. When enquiring from the Damelin reception staff we were informed that the driving school was asked to vacate the premises as they were defrauding a number of students and this had negatively affected Damelin's reputation. We were also informed that students had laid charges against them.
We were eventually contacted by the instructor who requested a meeting to reach an amicable solution. We informed him that following the events that transpired; we didn't feel comfortable in continuing with the lessons and requested a refund. He promised to discuss it with the owners of the driving school and get back to us. Subsequently we received a call from a lady by the name of Samira who informed us that she was ill and was not in office (this was exactly the same excuse that had been given by Naqeeb on the Wednesday when my mother had phoned). She further stated very emphatically that on no account were we entitled to a refund and that an email would have been sent to us stating that they do not do refunds. When we mentioned that according to the Consumer Protection Act that we were entitled to a refund she told us that we were welcome to take them to court and lay charges.
The clear trend that we are able to extrapolate is that this is Honeybee Driving School's modus operandi eventually leading to clients forfeiting the balance of the paid up lessons. It is for this reason that we are laying charges against them.
3.
Good day
I am emailing on behalf of my sibling who recently booked and paid in full for driving lessons with Honeybee driving school.
She paid for 10 lessons, and she received 4 with her instructor; which was painful as the instructor was constantly late or didn't pitch or was constantly moving the appointments.
Despite this, she stayed on with the school, hoping things would get better.
After the 4th lesson, she started being harassed by one of the staff members; who was sending her threatening and derogatory SMSes.
I then assisted my sibling by requesting that they staff member no longer contact my sister, as we would make a case if she did. And that the owner should contact us instead. We indicted that given the unprofessionalism we no longer wanted to be associated with the school and that we requested a refund.
The story that the school gave was that my sister was confused with another student that "was harassing the instructor". If this was true, they should have contacted the police, instead of maliciously harassing my sister, who suffered anxiety about this. Which is what I indicated to them.
Their response by the school was that the "owner" or "director" came back to say that the staff member no longer works there (which is untrue, as my sister spoke to the girl, when she called the school the other day), and that a new instructor was assigned.
I explained that the damage had already been done and that we wanted the refund instead, so that my sister could find a more professional and reliable school.
They have since been giving us the run-around for about 3 weeks now. We are planning on submitting a complain to the consumer protection agency, as well as go to small claims court. We are also looking at submitting a claim to the South African Information Regulator, as there has clearly been a violation of PoPI act in respect of the staff member using a client's contact details for their own purpose.
Furthermore, I've been doing some of my own checks, and it looks like these people have more than one school, and that my sister is not the only one that has been defrauded.
There are a number of complaints on hello peter, and it is sad to see that there are so many people that haven't got a clue as to what to do about their situation; as most of these are young people / students.
Here are a few of the complaints I've found:
• https://www.hellopeter.com/honeybee-driving-school
• https://www.hellopeter.com/driveco-driving-school/reviews/bad-experience-2470475?fbclid=IwAR0jT6onQvN03mRWdA6tYioVHc9IVeS_k3TB44tB-eg3Om4ASkqRLz11Bd0
• https://www.hellopeter.com/honeybee-driving-school/reviews/they-are-very-unprofessional-and-untrustworthy-1762399
• https://www.hellopeter.com/honeybee-driving-school/reviews/beware-of-this-driving-school-in-cape-town-2596385
I've also checked online for the owner's details, as he was not contacting us back at all, despite the staff telling me on numerous occasions that he would contact us.
I sent him a message on Facebook also, requesting assistance with regard to the refund so that we can be done with the situation.
It was at this stage that I noticed that there was affiliation with other schools also. I may or may not be correct, but it looks like they have been operating under atleast 2 driving schools.
• Honeybee driving school
• Drive National Driving Academy – I noticed the number on this schools facebook site is the same number as that of the driving instructor working for Honeybee.
On their website, they also say they are affiliated with Driveco Driving Academy, which seems to be a legitimate school; but at this stage, everything seems to be suspicious. I have contacted Driveco to find out if they are associated with Honeybee, but haven't yet heard back from them yet.
Thus, in addition to attempting to getting my sisters R1020 back, I am also trying to assess whether this school is actually legitimate, or if it is just a bunch of websites that have been set up with the intention of defrauding youngsters out of their hard-earned money (or their parent's hard-earned money).
Furthermore, I was going to drive to "one of their offices", but it would seem that the Honeybee driving school is slap-bang in the middle of Access park, while the Drive National Driving Academy is in front of Damelin college. This means that there is no physical office that can be visited to talk in person. Again, leading me to believe that something dodgy is going on.
This driving school needs to be investigated and exposed, should they be fraudsters. People don't have money in our country, and so we must ensure that any risk of being defrauded must be eradicated.
4. 
Hi there,
I am one of many displeased clients of Honeybee driving school.
Listening and getting feedback from some of the clients, we all have the same story and complaints.
They take on students, insist on untraceable cash payments, then barely ever pitch.
Despite all efforts to make suitable arrangements, clients often find themselves with instructors who will not answer to texts or calls, cancel the last minute, give the most absurd excuses and are no-shows.
Any attempt to resolve this with the administrators ends up with them unresponsive to emails, calls and texts. The enlisted address on Google is false.
Most of us find ourselves having had less than 50% of the 10lessons offered in their packages Months after initial sign up- which they obviously refuse to refund.
I personally believe they should not operate at all.
5.
Good day,
I could not resolve this issue last week so I asked my husband.
I AM SICK AND TIRED OF PEOPLE WHO HAVE NO RESPECT FOR THE NEXT PERSON.
I TRUSTED THAT WHAT YOU ADVERTISE ON YOUR WEB SITE WAS FACTUAL.
I REFUSE TO BE MESSED AROUND, I WORK HARD FOR MY MONEY AND I PAID UPFRONT FOR A SERVICE I NOW HAVE TO BEG FOR.
YOU SEND ME A DRIVING INSTRUCTOR. WHO ROCKS UP LATE TAKES HIS SWEET TIME TO GET TO THE DESIGNATED AREA. SO ITS 24 MINS GONE AND MY LESSON HASN'T STARTED. YET WHEN IT IS CLOSE TO THE 1 HR BEING UP THEN TIME MATTERS.
UNACCEPTABLE!
ESPECIALLY AS THIS IS YOUR SECOND ATTEMPT AFTER MY FIRST COMPLAINT WANTING MY MONEY BACK.
THIS IS MY BANK ACCOUNT PAY MY MONEY BACK. I'M DONE WITH HONEYBEE.
Sent: Tuesday, 12 February 2019 5:49 PM
To: info@saidinational.org
Subject: Driving school Complaint
6.
Dear SAIDI,
I would like to lay a complaint against DriveCo Driving Academy in Cape Town which defrauded  me. I paid R1400 for ten lessons in September 2018 and I have only received two lessons. The instructors and manager/owner ignores my calls, texts and emails. I would like you to please add them to the list of driving schools to look out for as I am not the first person to complain about them.
What further steps (through you) can I take to have them stopped.
Kind regards,
Namhla Bula
7.
Sent: Thursday, 14 February 2019 4:30 PM
To: Info@saidinational.org
Subject: Driveco Academy complaint
Afternoon,
My name is Siphokazi Mfundisi and I called earlier. I paid for 5 lessons upfront including car hire and booking but I received none of that from driveco in Cape Town. After 2 months of begging them for a lesson they said they won't refund me but can only give me a driving license voucher which I could use at any driving school.
I called other driving schools to confirm the voucher issue and they said they've never heard of it. So finally they stopped taking my calls and messages and told me there's nothing they can do for me. Even if I don't get my money back at least other people should be aware and this school should be shut down. I have attached proof of payment I'm thinking of going to the police as well and go to small claims court. Please publish my story so that more people are aware.
Thank you
8.
Hi
I have a complaint about a driving school (Honeybee driving school), I've paid these guys R1400 on the 8/01/2019 for 10 driving lessons for my son and he only had 1 lesson so far, been trying to book lessons with them and no luck and they are very unprofessional, I also tried to get a refund which they promised to pay back on the 15/02/2019 and I'm still waiting for payment and they not answering or returning my calls, so please assist and just look at the condition of the car, cv joints making a noise and management light was on. 
************************************************************************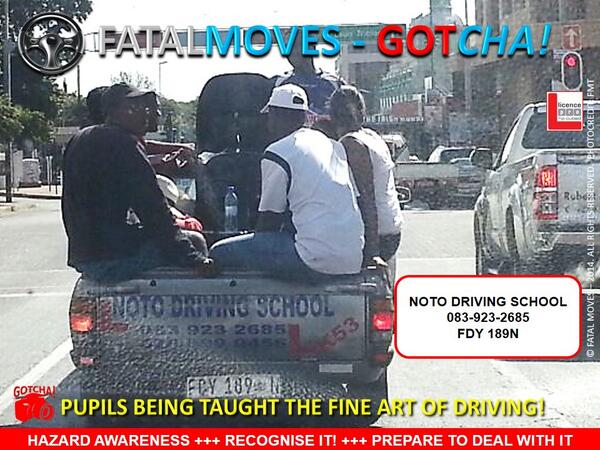 One of my own pupils reported that a friend of his was sitting on the back of a bakkie, like this, on the edge, when they pulled off at about 20 km. He fell off, cracked his skull, broke his nose and suffered brain damage. What a complete lack of understanding to see a driving school doing something like this.
We have been saying it for years. We need a training centre for driving instructors as a matter of great urgency. Every person presently earning a living as a registered driving instructor, or as one of the great majority of about 96% of unregistered "driving instructors" should be given an extensive training course, where the basic law of the country is taught; then every aspect of practical driving including defensive driving. I have been speaking about this for 5 years but we keep being told by the National Department of Transport, Provincial Department of Transport (particularly in Gauteng); by the RTMC and anybody else that there is no money for a training centre, but the law demands in Section 28 C of the NRTA that we take refresher courses at a training centre approved by the Shareholders Committee. The Shareholders Committee consists of the MEC of every Province.
Here is another shocking disgrace: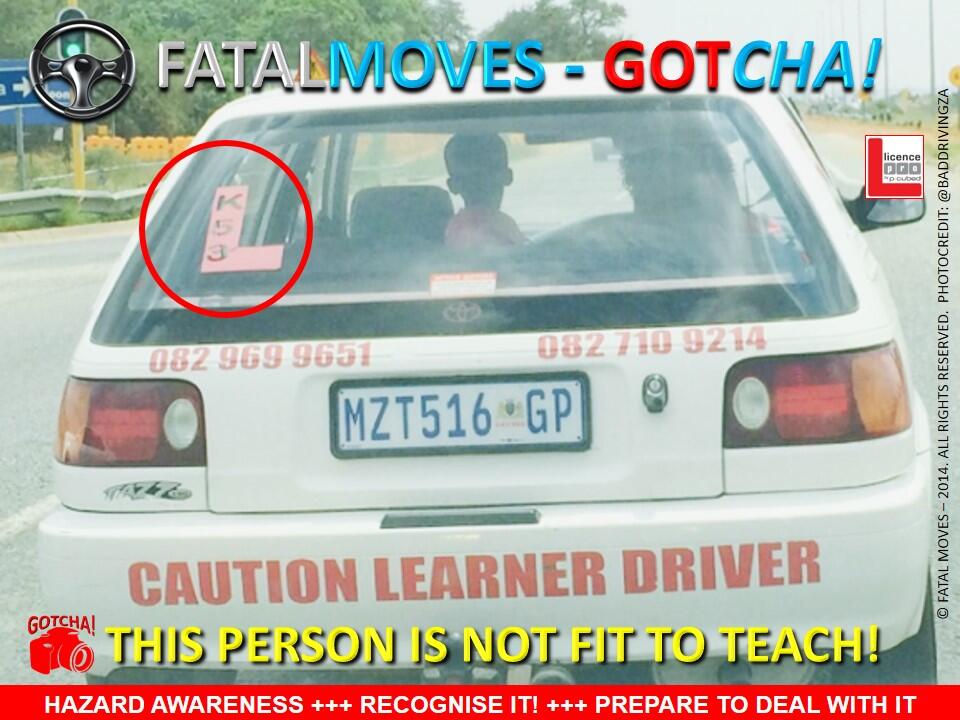 Can anyone in their right minds put a child at risk like this – it is appalling! – BUT it is a driving school car !!!!
A Facebook message  from Wendy Watson on 27th January 2014.
As I was driving home on the N2 this afternoon at about 17:00, I saw this Toyota Tazz CA 243-375, which belongs to "Street Wise Driving School". I counted 12 Kids & 2 adults – total of 14 people in it! Unbelievable! Please share so we can get the word out about this driving school and I hope the owners get to see this post, no regards for children at all!
Driving school vehicle inside the yellow edge line. This is not the way a well-trained driving instructor should be driving – or training clients to drive.
It is time driving instructors made it their business to know, understand, apply and teach the whole law:
According to the National Road Traffic Act 93 of 1996:
Left Edge Line Marking:
Indicates to the driver of a vehicle the left edge of the roadway and that, subject to regulation 298A, he or she shall not drive to the left of such marking.
298A.   Prohibition on driving on shoulder of public road, except in certain circumstances
(1)  Subject to subregulation (2) and regulation 298 (1) (e), no person shall drive a motor vehicle on the shoulder of a public road.(2)  Notwithstanding subregulation (1), the driver of a motor vehicle may, during the period between sunrise and sunset, drive such motor vehicle on the shoulder of a public road which is designated for one lane of traffic in each direction—
a) while such motor vehicle is being overtaken by another vehicle; and
(b) if he or she can do so without endangering himself or herself, other traffic, pedestrians or property on such public road
c) if persons and vehicles upon a public road are clearly discernible at a distance of at least 150 metres.
298.   Passing of vehicle
(1)  Subject to the provisions of subregulation (2) and (4) and regulation 296, the driver of a vehicle intending to pass any other vehicle proceeding in the same direction on a public road shall pass to the right thereof at a safe distance and shall not again drive on the left side of the roadway until safely clear of the vehicle so passed: Provided that, in the circumstances as aforesaid, passing on the left of such vehicle shall be permissible if the person driving the passing vehicle can do so with safety to himself or herself and other traffic or property which is or may be on such road and—
(e) he or she is driving in compliance with the directions of a traffic officer or is driving in traffic which is under the general direction of such officer, and in accordance with such direction: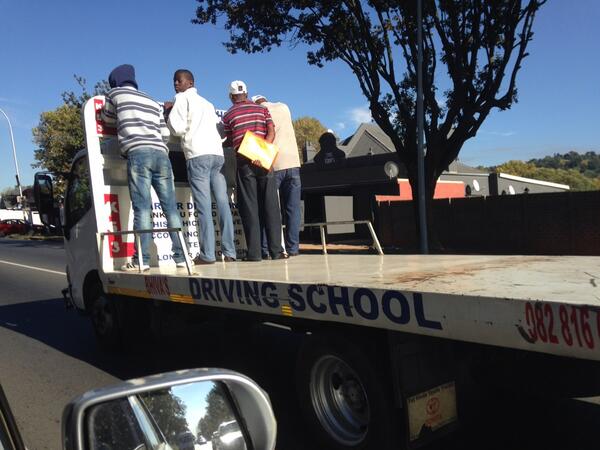 Road Accident Fund – be on the lookout for a claim from Bhiva's Driving School.
These five guys are cruising for a bruising. There is nothing to keep these men safe as they stand hanging on to this flatbed type of truck.
Any sudden unexpected movement or rough piece of road will send them flying, and smash their teeth on the bars in the case of a harsh brake. Stop pretending to teach driving guys. Start by educating yourselves first before you take money from the public for driving lessons.