************************************************************************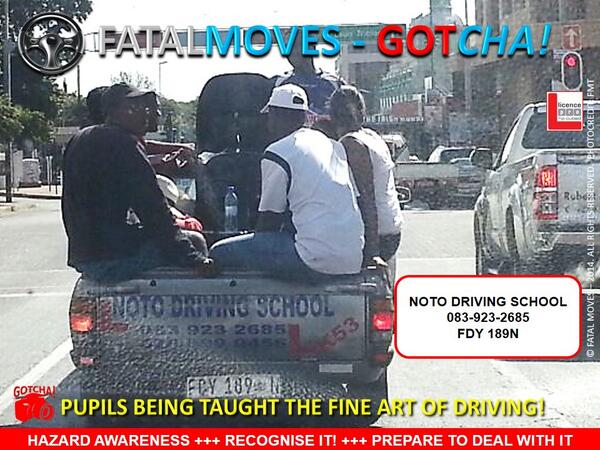 One of my own pupils reported that a friend of his was sitting on the back of a bakkie, like this, on the edge, when they pulled off at about 20 km. He fell off, cracked his skull, broke his nose and suffered brain damage. What a complete lack of understanding to see a driving school doing something like this.
We have been saying it for years. We need a training centre for driving instructors as a matter of great urgency. Every person presently earning a living as a registered driving instructor, or as one of the great majority of about 96% of unregistered "driving instructors" should be given an extensive training course, where the basic law of the country is taught; then every aspect of practical driving including defensive driving. I have been speaking about this for 5 years but we keep being told by the National Department of Transport, Provincial Department of Transport (particularly in Gauteng); by the RTMC and anybody else that there is no money for a training centre, but the law demands in Section 28 C of the NRTA that we take refresher courses at a training centre approved by the Shareholders Committee. The Shareholders Committee consists of the MEC of every Province.
Here is another shocking disgrace: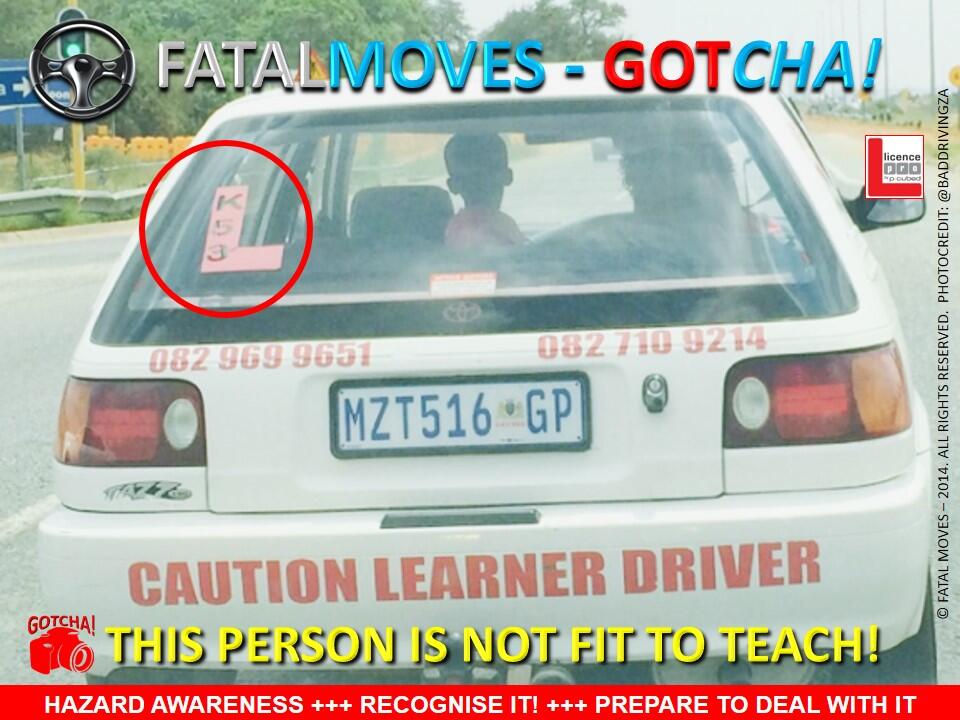 Can anyone in their right minds put a child at risk like this – it is appalling! – BUT it is a driving school car !!!!
A Facebook message  from Wendy Watson on 27th January 2014.
As I was driving home on the N2 this afternoon at about 17:00, I saw this Toyota Tazz CA 243-375, which belongs to "Street Wise Driving School". I counted 12 Kids & 2 adults – total of 14 people in it! Unbelievable! Please share so we can get the word out about this driving school and I hope the owners get to see this post, no regards for children at all!
Driving school vehicle inside the yellow edge line. This is not the way a well-trained driving instructor should be driving – or training clients to drive.
It is time driving instructors made it their business to know, understand, apply and teach the whole law:
According to the National Road Traffic Act 93 of 1996:
Left Edge Line Marking:
Indicates to the driver of a vehicle the left edge of the roadway and that, subject to regulation 298A, he or she shall not drive to the left of such marking.
298A.   Prohibition on driving on shoulder of public road, except in certain circumstances
(1)  Subject to subregulation (2) and regulation 298 (1) (e), no person shall drive a motor vehicle on the shoulder of a public road.(2)  Notwithstanding subregulation (1), the driver of a motor vehicle may, during the period between sunrise and sunset, drive such motor vehicle on the shoulder of a public road which is designated for one lane of traffic in each direction—
a) while such motor vehicle is being overtaken by another vehicle; and
(b) if he or she can do so without endangering himself or herself, other traffic, pedestrians or property on such public road
c) if persons and vehicles upon a public road are clearly discernible at a distance of at least 150 metres.
298.   Passing of vehicle
(1)  Subject to the provisions of subregulation (2) and (4) and regulation 296, the driver of a vehicle intending to pass any other vehicle proceeding in the same direction on a public road shall pass to the right thereof at a safe distance and shall not again drive on the left side of the roadway until safely clear of the vehicle so passed: Provided that, in the circumstances as aforesaid, passing on the left of such vehicle shall be permissible if the person driving the passing vehicle can do so with safety to himself or herself and other traffic or property which is or may be on such road and—
(e) he or she is driving in compliance with the directions of a traffic officer or is driving in traffic which is under the general direction of such officer, and in accordance with such direction: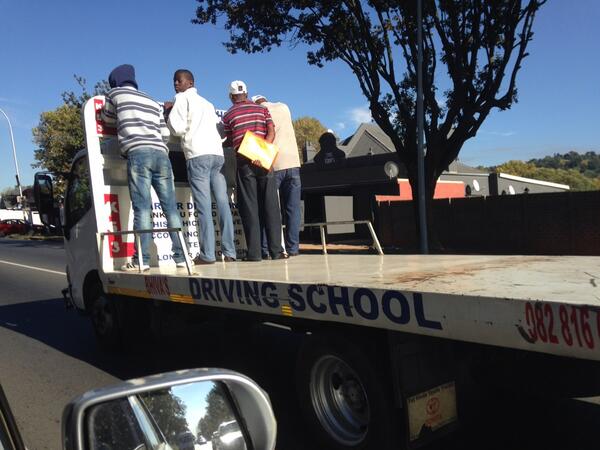 Road Accident Fund – be on the lookout for a claim from Bhiva's Driving School.
These five guys are cruising for a bruising. There is nothing to keep these men safe as they stand hanging on to this flatbed type of truck.
Any sudden unexpected movement or rough piece of road will send them flying, and smash their teeth on the bars in the case of a harsh brake. Stop pretending to teach driving guys. Start by educating yourselves first before you take money from the public for driving lessons.
Mabunda driving school, Mpumalanga.
From: xxxxxxx
Sent: Monday, 02 September 2019 12:32 PM
To: info@saidinational.org
Subject: Driving school scammers
Hi my name is xxxxx, i am from mookgophong municipality in the limpopo province. i have a problem with the owner of mabunda driving school, he was recommended to me by a family member, he requested 4500 Rands for both learner's and driving i paid him via eft and cash due to my daily limit ever since i paid i never got any service. he asked me if i can drive i said no. he booked for learners without teaching me a thing, i failed once and that was the last tym i saw him, he doesn't own offices i tried his mobile phone without success he does not care, now i need my refund plz help